The building was completed in 1971, funded with a donation from Albert and Vera List, philanthropists and private art collectors. It was designed by the American architect Philip Johnson (1906-2005), best known for his modernist architecture. The List Art Building is located directly across the street from the Rockefeller Library on College Street, and just up the hill from the Rhode Island School of Design (RISD).

List Art Building is open from 8:30 am - 5:00 pm during the academic year, and 9:00 am to 3:30 pm during the summer.
Schedule a tour of our studios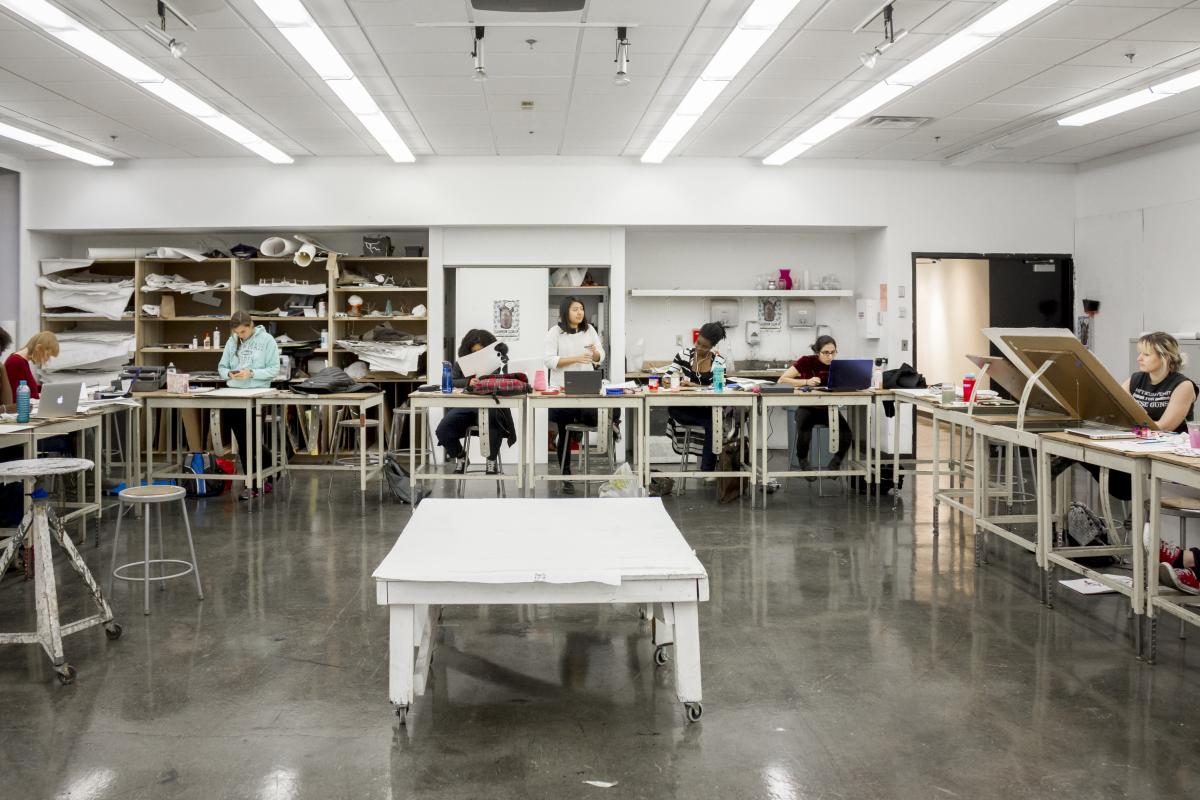 Drawing and Studio Foundations
Located in the List Art Building, rooms 225 & 325 are our most heavily used classrooms. At 1490 sqft, each space is equipped with digital projectors for visual presentations, drawing tables for up to 22 students and staging for still-life and figure drawing. In addition to serving as teaching spaces for course offerings, they are periodically used for figure drawing sessions and as presentation spaces for honors students and for visiting artist lectures.
Digital Media Lab
Digital photography and electronic media are supported by the Digital Media Lab (List Art Building, Room 315), a multi-computer teaching facilities in which students may engage in a wide variety of disciplines including 3D modeling and animation, film-making, electronic music, and hypertext authoring. The Digital Media Lab has 16 computer stations, 8 film scanners, a copy stand, and two large table clusters.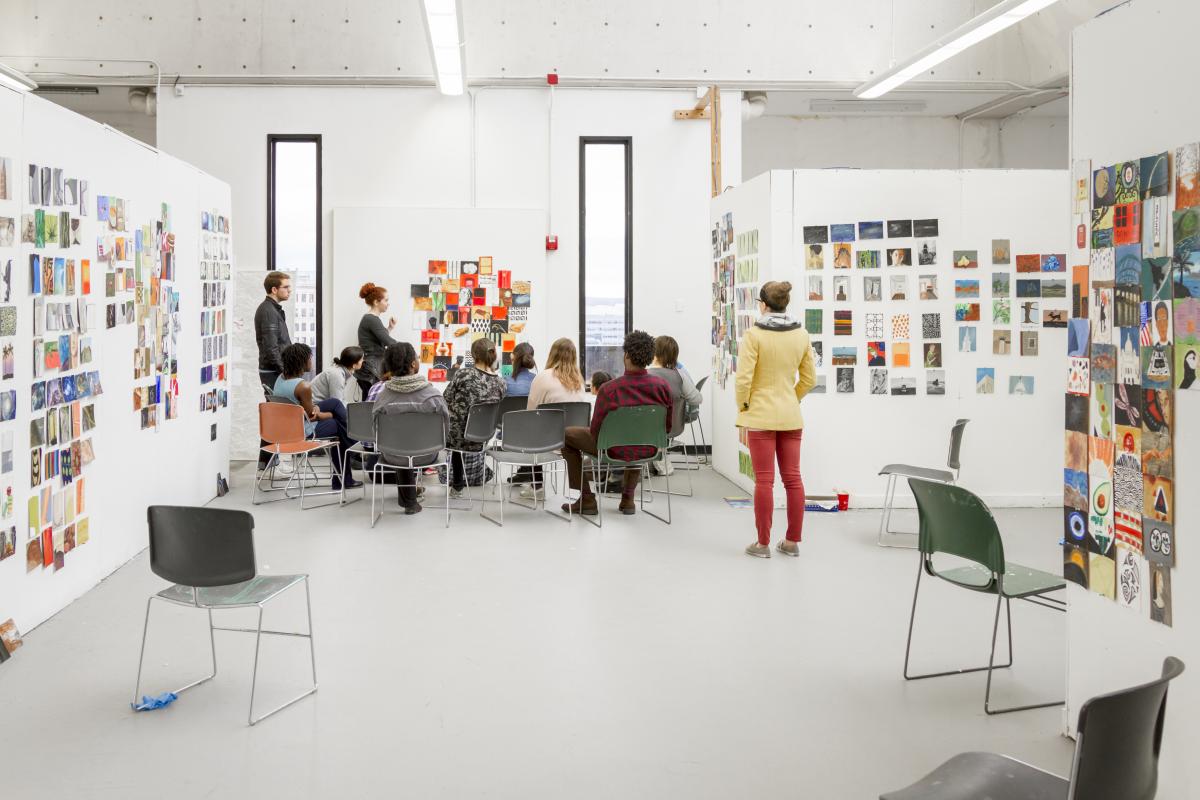 Painting Studio
Painting is taught in a 3244 sqft studio located on the 5th floor of the List Art Building. The front of the space is an open critique area, backed by storage racks, sinks, and a miter saw. The room is lit from above by two large north facing sky lights, flooding the room with natural light. Students enrolled in Painting I share a space with one other student and, depending on enrollment, students in Painting II often have their own studio space. Several spaces are dedicated each year as individual spaces for Honors students. Each student taking a painting class is given a storage cabinet outfitted with a glass-topped paint palette.
Black and White Darkroom
The black and white/analog Photography Studio is 1006 sqft and is located in Room 321 on the 3rd floor of the List Art Building. It consists of a darkroom, a film‐loading room, and a larger main space for presentations, critiques, and discussions. It currently has enlarger stations for fifteen students and lockable flat files for the storage of student supplies and paper.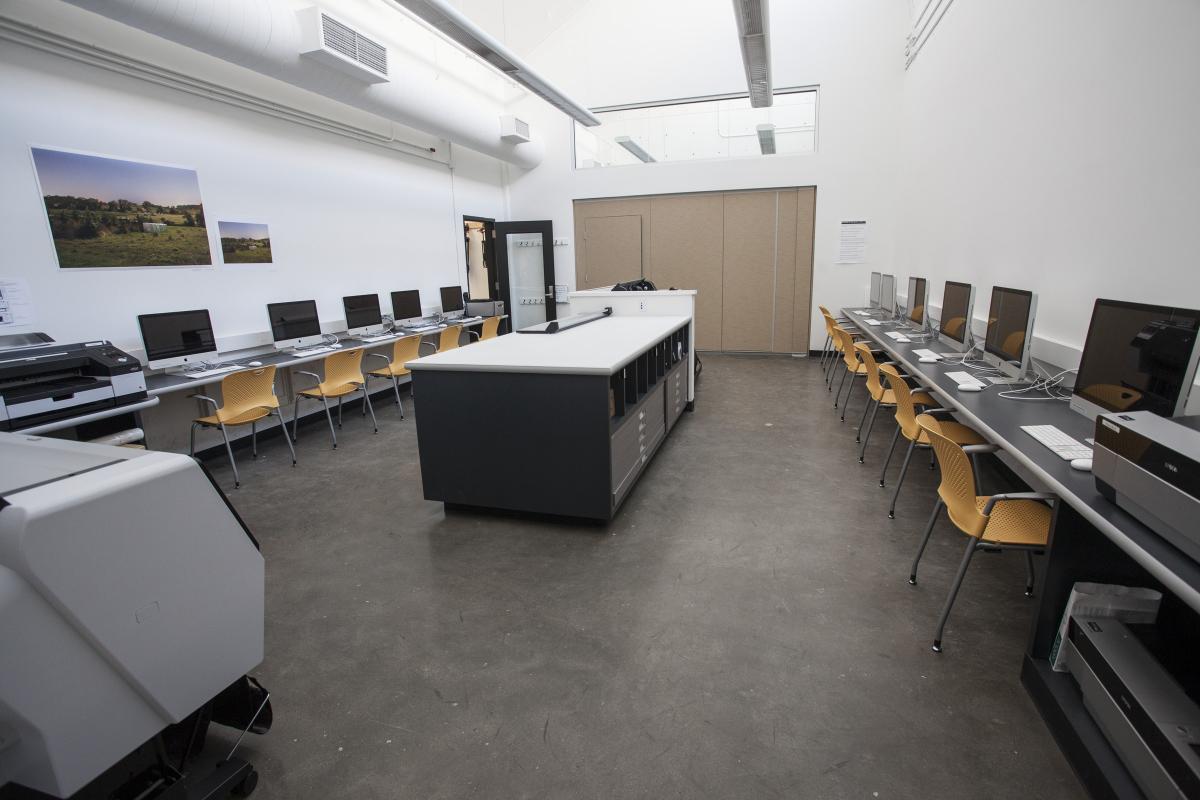 Digital Print Lab
Digital Photography is taught in one of the two Media Labs described above with a dedicated Digital Print Lab located in the List Art Building, room 512. The Digital Print Lab is equipped with eleven iMac computers as well as four Epson inkjet printers, including two SureColor P9000s and two SureColor P5000s to support the production work of students enrolled in Digital Photography classes or independent study in Digital Photography.
The Digital Print Lab also houses a lighting studio equipped with seamless backdrops, green screens, a short-throw projector, and multiple lighting kits. Priority for the lighting studio is given to students in VISA1520 Digital Photography and Honors VA Concentrators.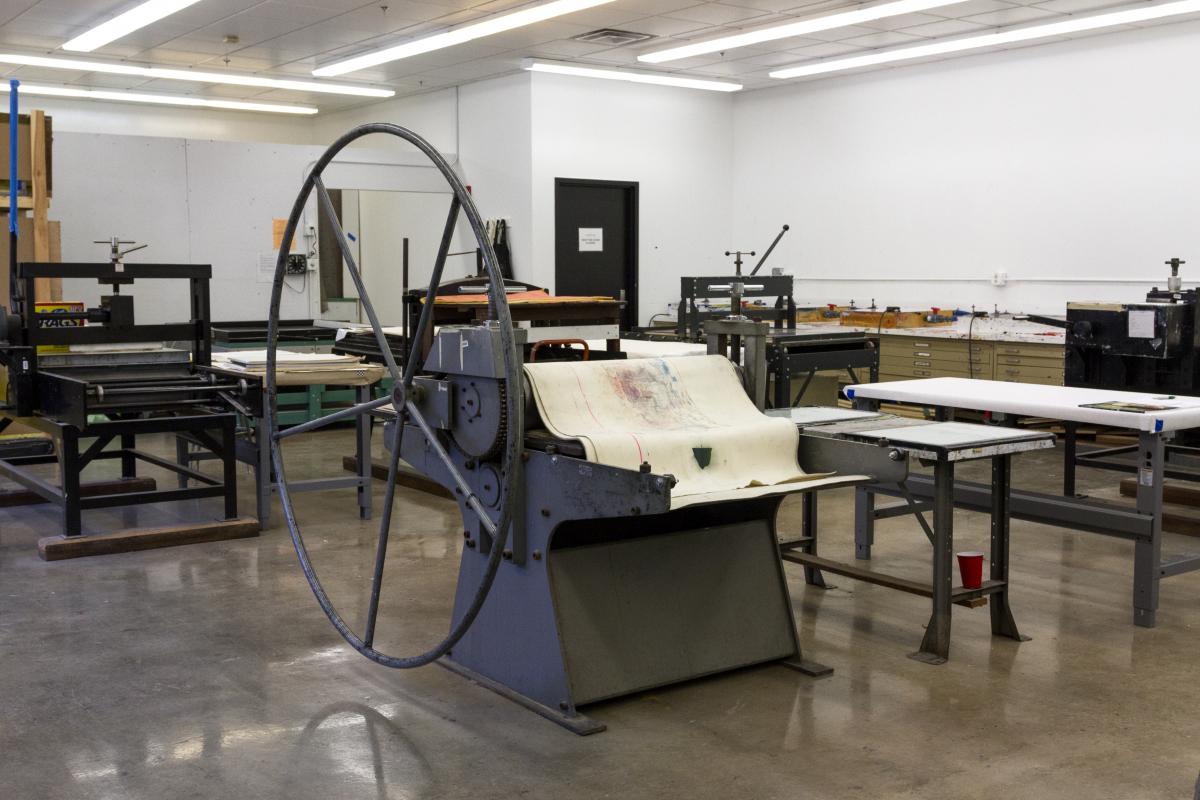 Printmaking Studio
The printmaking facility in the List Art Building, room 310 is adjacent to the Multi Media Lab, making it an ideal location for collaboration and integration of digital methods into traditional printmaking. The printmaking facility is 2412 sqft and contains three lithography presses and about 30 stones, two large etching presses, five vacuum table spaces for silkscreen printing, a dedicated inkjet printer, a RISO printer, and a large number of work surfaces. Along one end, large sinks accommodate stone grinding and silkscreen cleaning.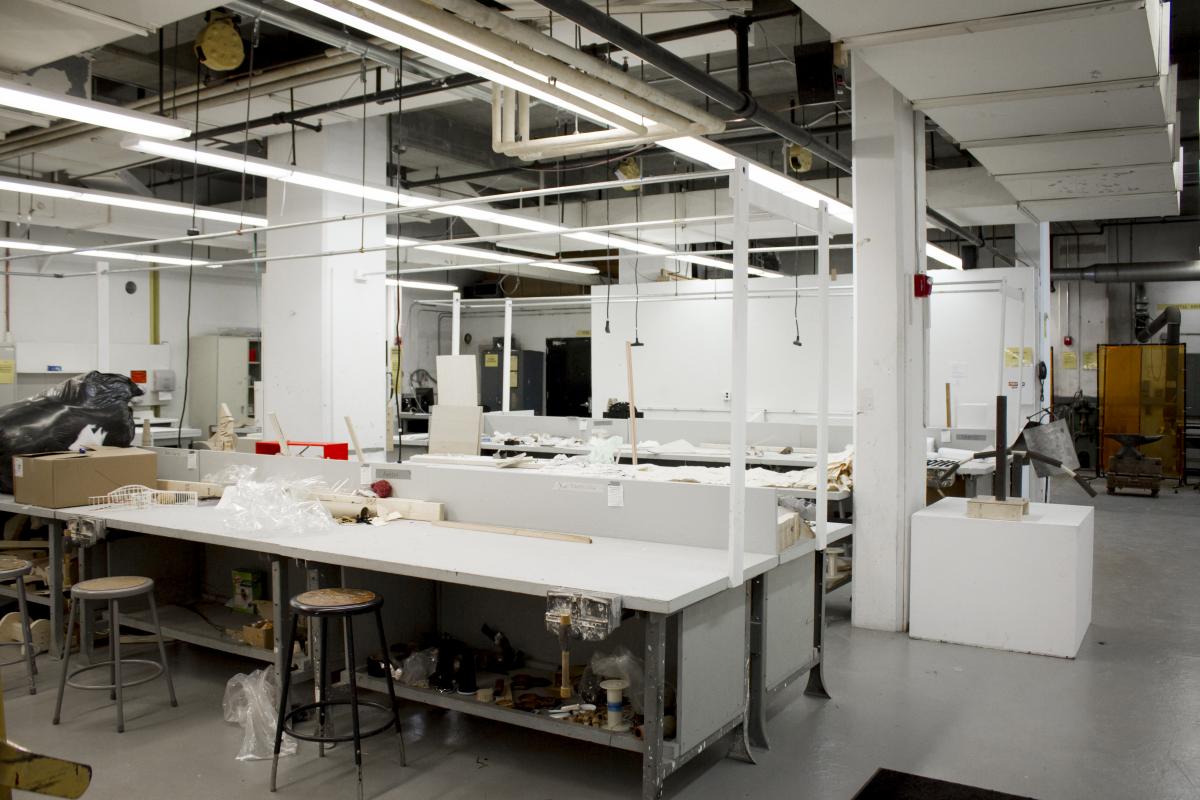 Sculpture Studio
The principle sculpture studio is a 4032 sqft space in the basement of the List Art Building. The studio is available to students enrolled in sculpture courses or by permission from an instructor. The studio includes areas for basic woodworking, metalworking, and plaster casting, as well as a common work area with three workbenches and a class area with eighteen workbenches. The studio also includes a tool room, with basic hand and power tools, and a dual-purpose critique gallery space. Adjacent to this main teaching and work area are six individual studios (totaling 800 sqft) for Honors students and independent studies. Another large room (also 800 sqft. and adjacent to the main area) is used as a staging area for larger 3D work and for staging student installations.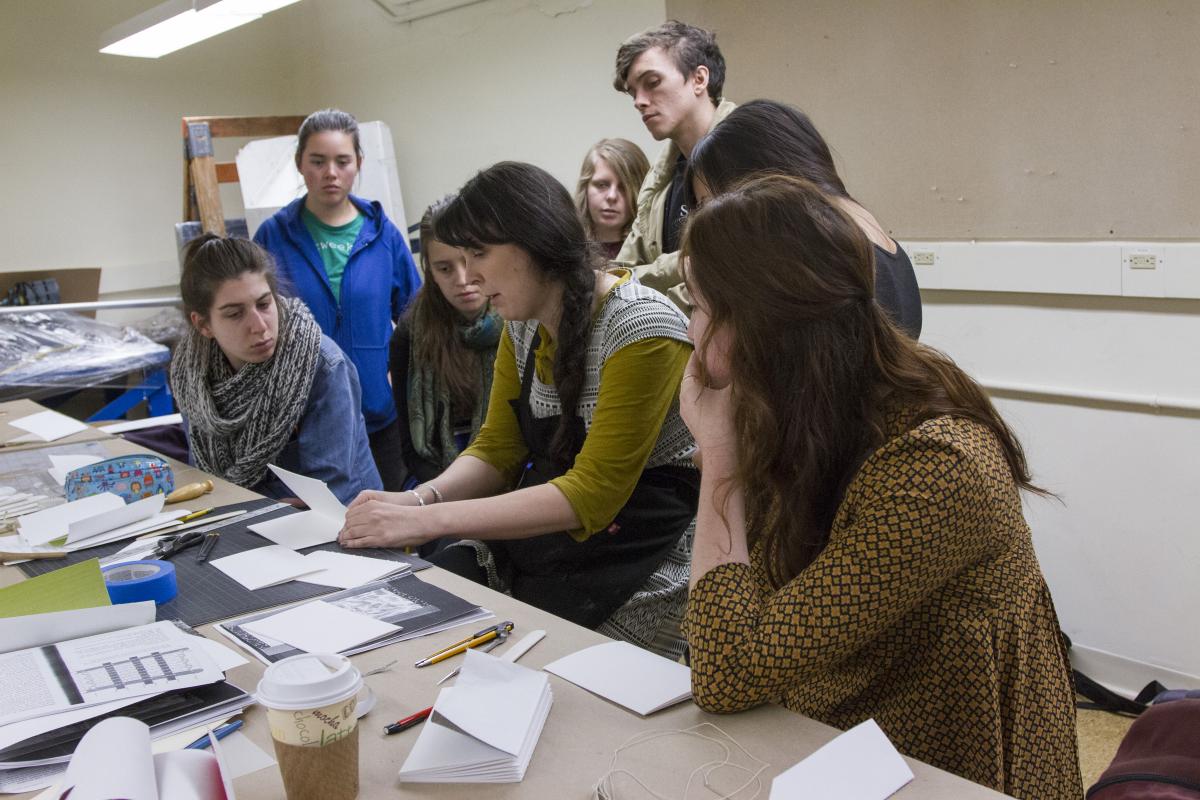 Walter Feldman Book Arts Studio
The Walter Feldman Book Arts Studio, located on the lower level of the John Hay Library, is a unique space dedicated to keeping the book arts alive at Brown. Students learn the basics of typography, book design, and bookbinding. The 1278 sqft Book Arts Studio is fully equipped as a conjoined letterpress printing studio and book bindery. The printing studio has two Vandercook presses, metal type in text and display sizes, and the necessary tools for making and printing photopolymer plates. A fully-functional and spacious bindery is adjacent to the printing studio and includes paper-making capability.
Galleries
The List Art Building houses several spaces dedicated to student exhibitions. The first floor gallery space, adjacent to the main lobby, is suitable for 2D and 3D work. The second floor of the List Art Building houses three distinct spaces; a small, windowless room that is ideally suited for multi media installations, a corridor gallery that accommodates both 2D and 3D work, and a video monitor that is permanently installed in the elevator lobby on the second floor, allowing for the presentation of work in single-channel video.